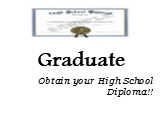 Get your High School Diploma by passing the Official GED Exam. The way we do this is by having you take the 'Varitiez Placement Test' to determine what level you are functioning. After this test is competed it will tell us what comes next, either another test known as 'GED Practice Test' or some classroom instruction. Once we know you are ready to take the 'Official GED Exam' it will be administered by an Official GED Testing Administrator from the state you are in. Primarily what makes us different from the "Free" and other cost programs, is that here at Varitiez, If you are ready to take the Official GED Exam we will NOT hold you back. Some programs can offer their services for free because they get paid from the state to count you in their program. The catch is that you have to be with the program for a certain period of time (i.e. 3 months, 90-days, 50 hours etc.) So that means that if you are what we call "GED Ready" meaning that you can take the Exam and pass without having to wait, with the "free" programs you will still have to wait their period of time (i.e. 3 months, 90-days, 50 hours etc.) or else they won't get paid for you. So why wait? You have goals, requirements, time frames to meet, or you may just want to get it out of the way. View our Three Step GED Process video to understand how we work. Our Procedures to become a GED student, Official GED Testing Dates, A list of Do's and Don'ts when taking the Official GED Exam, and Frequently Asked Questions.


Services:








(The following are Official GED Testing dates.)


| | | | | | |
| --- | --- | --- | --- | --- | --- |
| 01/21 | 02/21 | 03/21 | 04/21 | 05/21 | 06/21 |
| 07/21 | 08/21 | 09/21 | 10/21 | 11/21 | 12/21 |
Official GED Testing Do's:

1. Bring two (2) forms of ID.
2. Be well rested.
3. Take referral form.
4. Know location, time, and date of testing.
5. Be prepared to stay 1 to 2 hours per test.
6. Know the test's you are taking.
7. Settle baby sitters if needed.
8. Clear mind of any distractions.

&nbsp &nbsp

Official GED Testing Dont's:

1. Forget ID's or forms.
2. Take kids to testing.
3. Wait last minute on everything.
4. Rush on test.
5. Be rushed.
6. Think about other things.
7. CHEAT.
8. Leave answers blank.
Graduate Dept. FAQ'S: