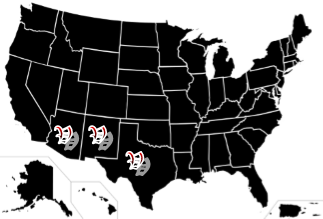 Varitiez locations are listed below however all contacts are routed to Varitiez Headquarters that has all account information and contact information for individual locations. If you feel like your community will benefit from us opening a location in your area and you have a building, room, or property. Contact us by becoming an affiliate in the P.E.I.R.A. project.



Varitiez Corporate Office (480) 447 - 9114
Monday - Friday: 6:00pm to 10:00pm
Saturday & Sundays: 12:00pm to 5:00pm
rep@varitiez.com





Effective March 2016 we will start receiving incoming calls for Varitiez at (480) 447 - 9114. Other forms of correspondence can be through email, forms on our website, and social pages. We strive in providing outstanding customer service as always.


Varitiez Locations:
Help us open locations near you, Click Here to find out how.